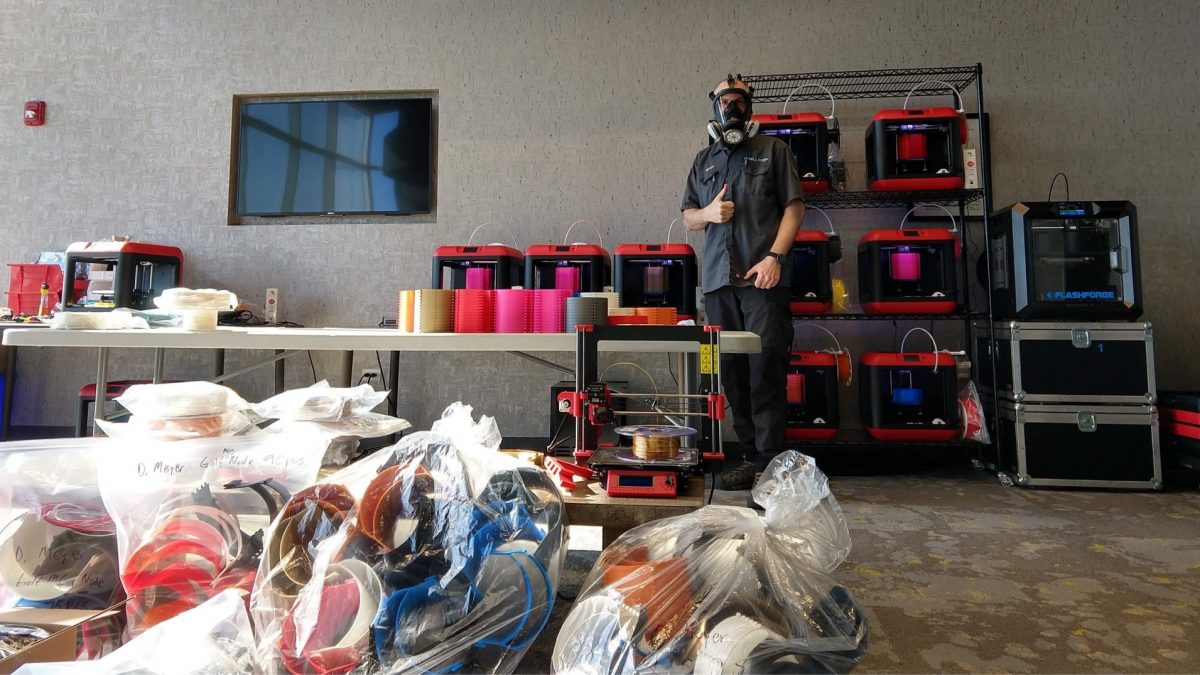 Teeing Up 3D Printers to Make Personal Protective Equipment for Hospitals
Anne Henkels , 4 years ago
6 min

read
4853
CHICAGO — It's strangely quiet in the golf simulator room. The soft whir of 20 3D printers has replaced the usual punctuated sounds of golf balls being hit. The giant golf simulator screen, which once displayed a virtual golf course, now shares videos with similar 3D printer setups across the world in Spain, Brazil and South Korea. One man is stationed in the corner, focused on his computer screen before walking over to inspect the printers' cycles. From a print bed, Dan Meyer picks up one of the most in-demand, lifesaving products in the world right now—a freshly printed face shield frame.
With a degree in Manufacturing Technology from Illinois Institute of Technology and more than 20 years of experience in high-speed manufacturing, Dan is not your ordinary computer aficionado—he's a hacker. Though the word may conjure up images of masked bandits or data thieves, the term "hacker" comes from ingenuous "technology-based pranks" in the 1950s, according to an MIT alumni article.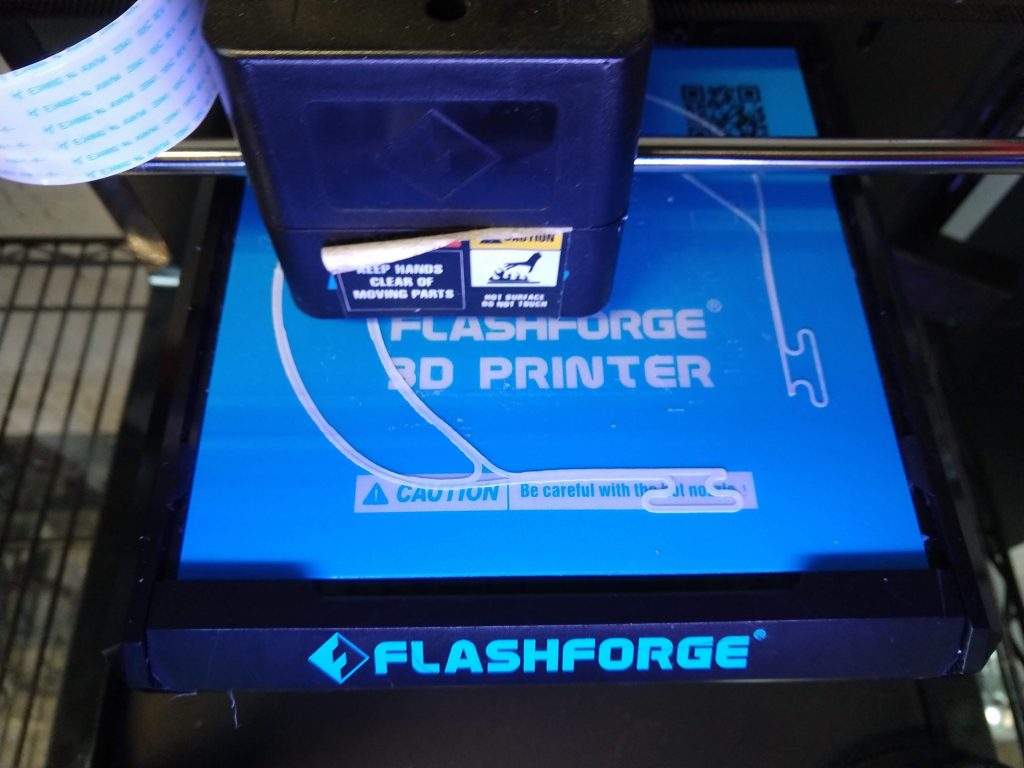 "I believe the word 'hack' is neutral and all the hackers I know have very high morals and a desire to apply their unique skill set in ways that help everyone," Dan explained.
Today, Dan, the Fab Lab senior manager at Chicago's Museum of Science and Industry, emphasizes that his special skills and those of his fellow hackers—also called makers—are often used in positive, innovative applications. For example, Dan and other Fab Lab personnel quickly noticed the high demand for personal protective equipment in hospitals due to the spread of COVID-19 and began searching for alternative solutions for the supply chain of these materials. The Fab Lab Network, which includes almost two thousand labs (also called "maker/hackerspaces") worldwide that are dedicated to fostering technological access and creative invention, has stepped up to show how open fabrication of lifesaving materials can overcome the limits of industrial production.
In March, Dan fired up one 3D printer in his apartment home in the Uptown neighborhood of Chicago and went to work printing face masks and face shield holders for health care providers. After printing by himself for three weeks, he reevaluated his setup as the demand for supplies needed by local hospitals steadily increased. On a normal day, Dan would be leading a team of five Fab Lab experts and nearly 60 3D printers, laser cutters, CNC routers and vinyl cutters at the museum's Wanger Family Fab Lab, so he asked them if he could use their facilities to print more masks with maximum efficiency. Since he was unable to work out of the Fab Lab while the museum is shut down, he remembered that the amenity spaces in his apartment community, Eight Eleven Uptown, which is owned by PGIM, had been closed as a health and safety precaution for residents. He contacted Bozzuto Management Company, the property manager of the building, with a proposal to use the property's closed golf simulator room as a "hackerspace." Within hours, he received the green light to tee off a new production space.
Downstairs, Dan set up 20 of the museum's 3D printers, which normally prints miniature creatures designed by museum visitors in workshops led by Fab Lab staff, to support hospital needs and started collaborating with his fellow Fab Lab members. These labs quickly adapt to serve their communities' needs.
"When something like this happens, we're ready to respond. During a crisis, hackers will do anything with any resources to help," said Dan. He's been working on moving some of the 3D printers in the golf simulator room to the homes of fellow museum employees so they can assist with printing face shields.
To help produce face shields and masks for local hospitals during this current crisis, members of the remarkably strong hacker community network utilize a human-centered design process, an iterative design process used in progressive manufacturing and Fab Labs. They use human-centered design and feedback, the most powerful and rapid response process, to incorporate improvements to the machines, software and open-source designs. They provide each other with insights about the effectiveness of codes and patterns based on feedback that hackers receive from medical personnel.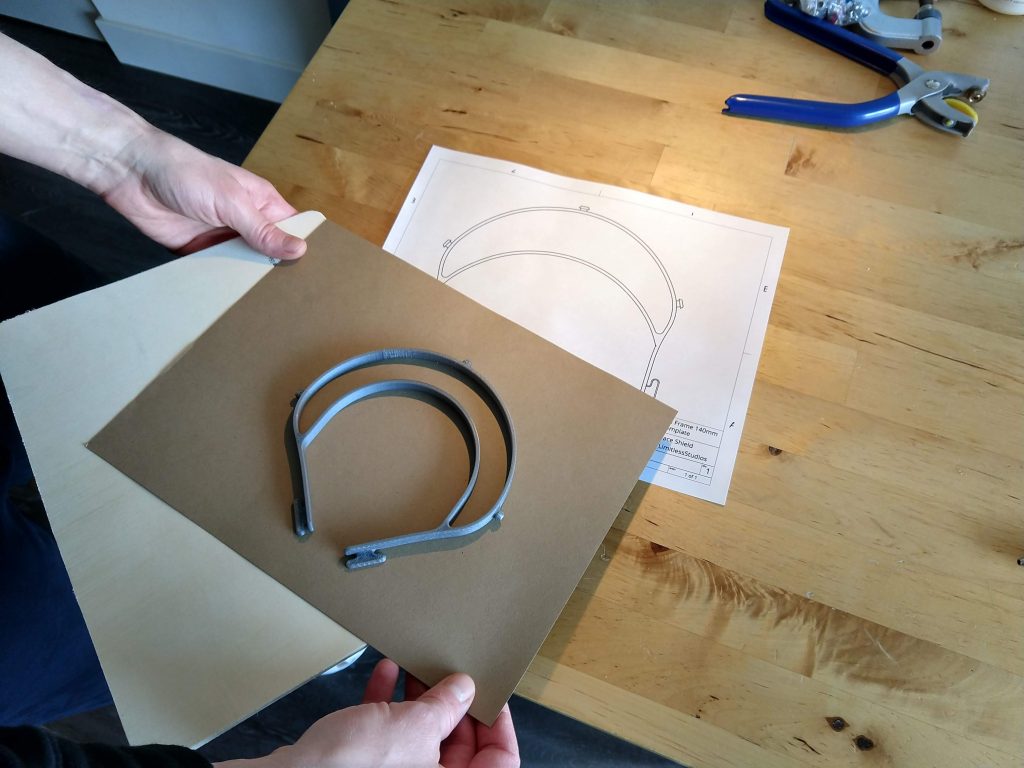 Currently, 3D-printed face shield frames are based on the popular National Institutes of Health-approved "Swedish Face Shield" design, developed by local Chicago designers Deborah Beien and Richard Beien in partnership with Swedish Covenant Hospital. 3D printers are uniquely suited for this task because they can make virtually any shape. After printing, the shield frames receive a three-hole-punched standard transparency or report cover to complete them. To date, Dan has printed more than 600 face shield frames in the golf simulator room at Eight Eleven Uptown. He and his team can print 500 per day as of this writing.
After Dan prints the face shield frame components, he coordinates with fellow hackers to have the masks cleaned and distributed to local advocate hospitals on the South Side of Chicago including South Shore Hospital, St. Bernard Hospital, Mount Sinai Hospital, Mercy Hospital & Medical Center and John H. Stroger, Jr. Hospital of Cook County. As new shield, mask and other personal protective equipment designs and components are produced, more than 100 local hackers from the South Side Hackerspace Chicago and Pumping Station: One hackerspaces bring "sample packs" of masks, face shield holders and even a few hospital gowns made from plastic tarping to hospital teams, gathering their feedback on designs and allowing them to calculate their inventory needs for certain items.
"Some people don't think it's possible for a particular product to be made. When they see the samples and flexibility of the designs, it opens a dialogue with the hospital staff and inspires them to think about the design process for protective gear in a creative, new way," Dan explained.
In addition to printing masks and face shields, Dan also provides remote assistance to colleagues and other organizations, helping them bring online, troubleshoot and fix their 3D printers. Even if you're not a hacker or don't have access to a 3D printer, he reminds everyone at home that they can still contribute to the efforts being made to aid health care providers. Anyone looking to join this open-source design movement is encouraged to check the recently launched website Illinois PPE Network to see what you can make, list a personal protective equipment need or donate to help the effort. Additionally, always remember to wear a cloth face covering in all communal spaces in accordance with CDC guidelines.
As Dan and his fellow hackers have shown, you can make a significant difference by banding together as a community, using your own unique skills and knowledge to help others. Whether you're making face shields in a golf simulator room or helping from home, saving the world is a team effort.
Related posts