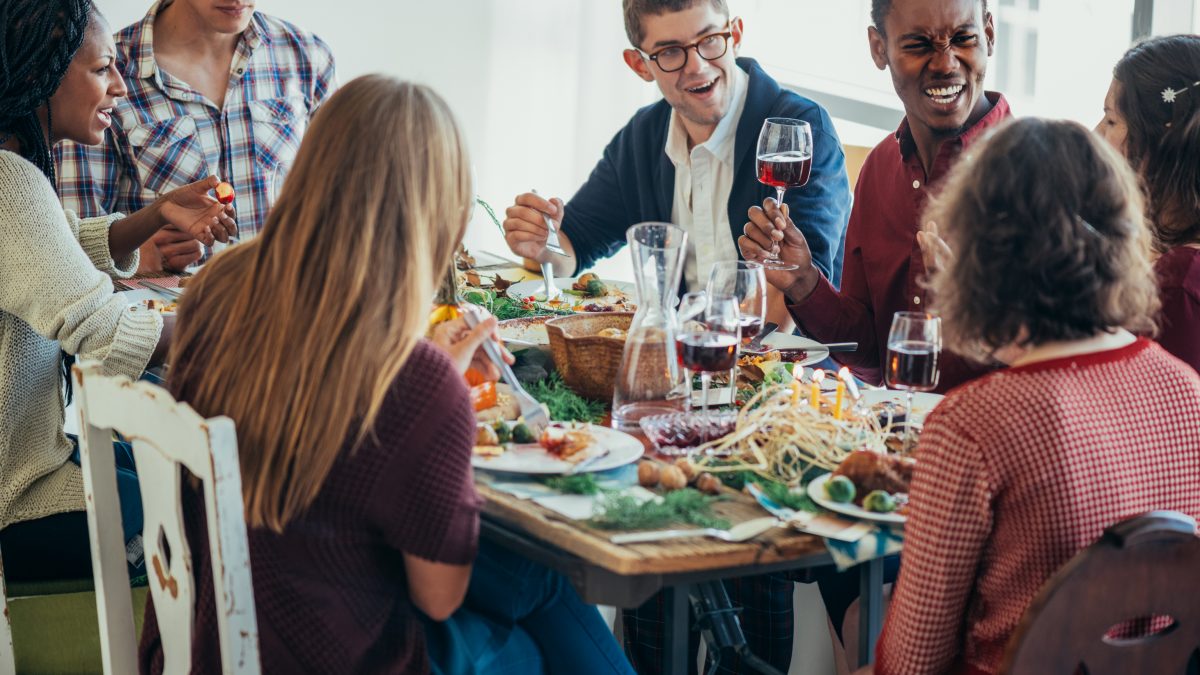 Why Thanksgiving Is Hands Down Our Favorite Holiday
Samantha S. , 5 years ago
3 min

read
7638
Sure Halloween has candy, Christmas has presents, Fourth of July called dibs on fireworks, but it's Thanksgiving that really is the best holiday of them all. Don't believe us? Just look around your community and see how it brings people together.
Thanksgiving is the quintessential "home" holiday. Most of us spend the day in our own homes, or the homes of our loved ones. We get cozy, relax, and slow down enough to appreciate everything. If that's not enough for you, here are just six of the many, many reasons why we at Bozzuto look forward to Thanksgiving the most every year.
1. THE FOOD (OF COURSE)
Now I don't know about you, but I'm here for the food. This one may seem obvious, but eating until you have to pop a button is something I recommend doing at least one day a year. Turkey and stuffing are on pretty much everyone's menu, but the real creativity comes out in the side dishes (though Country Living might disagree with their 38 different turkey recipes, I guess you can get creative with the traditional bird too). Every family puts their own spin on what they serve alongside their turkey, and this part of your plate is where your culture and traditions really get to shine.
Also, along with overeating comes midday napping. And, don't even get us started on the leftovers.
2. MORE FOOTBALL, PARADES, AND PUPPIES
With the Macy's Thanksgiving Day parade, Thanksgiving has less of that in-your-face commercialism and more of the fun, subtle kind. Since 1924, the flagship store has been filling NYC's streets with balloons, floats, bands, dancing, and more. We watch this amazing spectacle every year as we finish whipping yams and toasting pecans. Not into parades? How about a little football? This year you can catch Bears vs. Lions, Redkins vs. Cowboys, and Falcons vs. Saints in the usual all-day football fest. And if you're still not satisfied, there's always the adorableness of The National Dog Show.
3. MOST PEOPLE GET A FOUR-DAY WEEKEND
That's right when you have a holiday that falls on a Thursday every year, most companies just throw Black Friday in as a bonus. (Let's be real how many of us would actually show up for work on Friday after stuffing our faces all day anyway?)
4. THE GIVING BACK SPIRIT STARTS TO SPREAD
Giving back always comes to the forefront of our minds during the holidays. Thanksgiving usually kicks the season off with charity Turkey Trots, food drives, pet adoption, veteran and military family support, and more. Find something you're passionate about and give back this season.
5. CAN'T BUY ME LOVE
The Beatles said it best, money and gifts aren't the way to someone's heart. Yes, they're nice, but one of the best things about Thanksgiving is that you get to spend it with family and friends, free of that having to buy them the perfect gift pressure.
Of course, gifts are a really nice way to let someone know you care, but sometimes it's nice to just do that by being together. Remember to let the people at your Thanksgiving table know that you're grateful for them above all else.
6. EVERY AMERICAN CELEBRATES
Thanksgiving is a holiday for everyone. Your race, religion, or even nationality doesn't really matter. Sure, it's an American holiday, but we love sharing this marathon-eating, gratitude-giving fest with anyone and everyone. This might be what we love most about Thanksgiving. It's a holiday that looks past everything but acceptance and appreciation. It's about community and home.
At Bozzuto, we believe in creating inviting communities that bring people together and inspire them. It's our mission to provide sanctuary—a place where you belong. This year, and every year, we're thankful for all of our residents and the amazing relationships we're so fortunate to build with you. Thank you, and have the Happiest Thanksgiving.
Find Your Sanctuary
Related posts