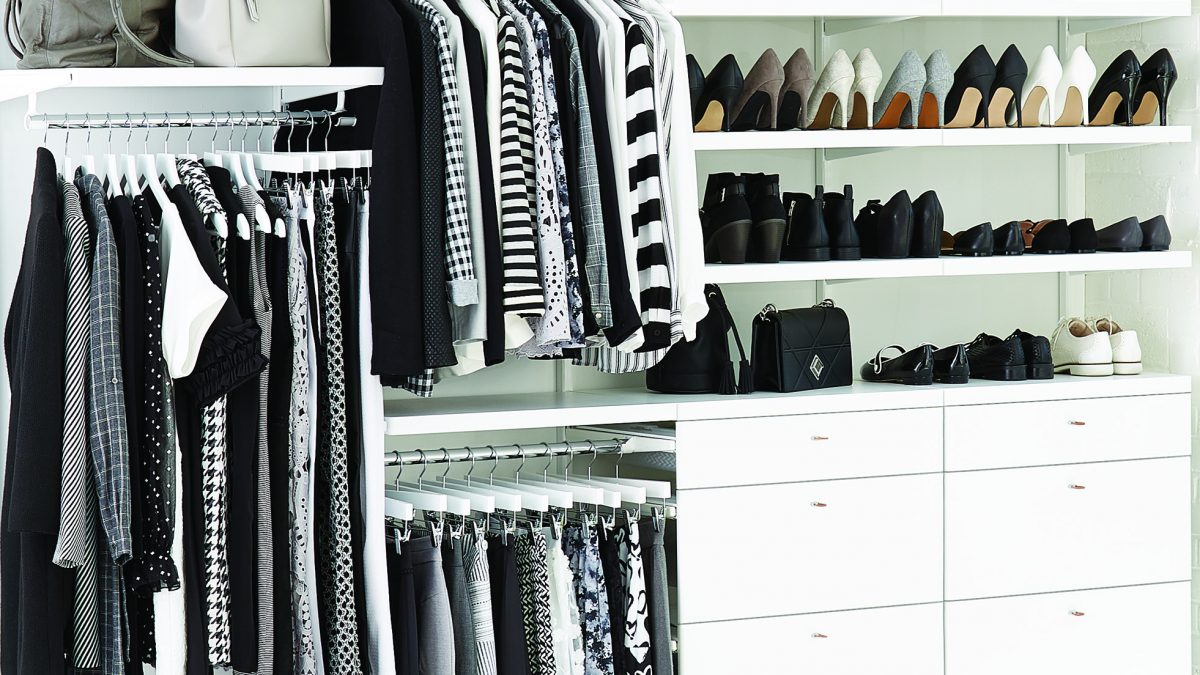 How To Enhance Your Closet Experience
Samantha S. , 4 years ago
5 min

read
6164
When Jami Macklin moved into Anthem House in Baltimore, she fell in love with many aspects of the community and her apartment—but the thing that really took the cake was her large walk-in closet. "I used to live in New York City so the space in the closet was like the size of an apartment to me." And that was before her new elfa® closet system was installed.
elfa is The Container Store's customizable modular shelving and drawer system. It can be used to organize just about any space, from an office to a pantry, but it's best known for its transformative effect on closets. As one of our many partners, The Container Store offers all Bozzuto residents discounts on their products, including customized elfa systems.
Easy-to-Customize
Macklin received an elfa system as an incentive for being one of the first residents to lease at Anthem House. "I actually knew about The Container Store before because I have this awesome elfa drawer system from them. So, when they said they were switching up the closets and that they were going to be elfa, I got super excited."
To have the system installed, Macklin had to take everything out of her closet. The next day, while she was at work, the elfa experts set up her entire closet in an afternoon. As she started using her new closet, she made some changes to the original setup. By raising one of the lower shelves up a bit, Jami was able to fit a shoe rack underneath, and depending on the time of year she's been able to make a few more modifications based on the season. "The system is so easy I'm able to go in and make changes at any time." With the ability to adjust shelves and hanging rods heights and lengths, elfa makes it simple to create a setup that makes the most sense for you and your needs.
One of the biggest benefits of the elfa system is the way it utilizes vertical space. Joking about her height, Macklin said it was nice to have higher shelves to store items she doesn't use every day. A higher-up hanging rod also gives her the option to hang long maxi dresses and jumpsuits. "I can see everything. Just walking in and being able to see my tops on the side, my pants and dresses in front of me, really makes a big difference."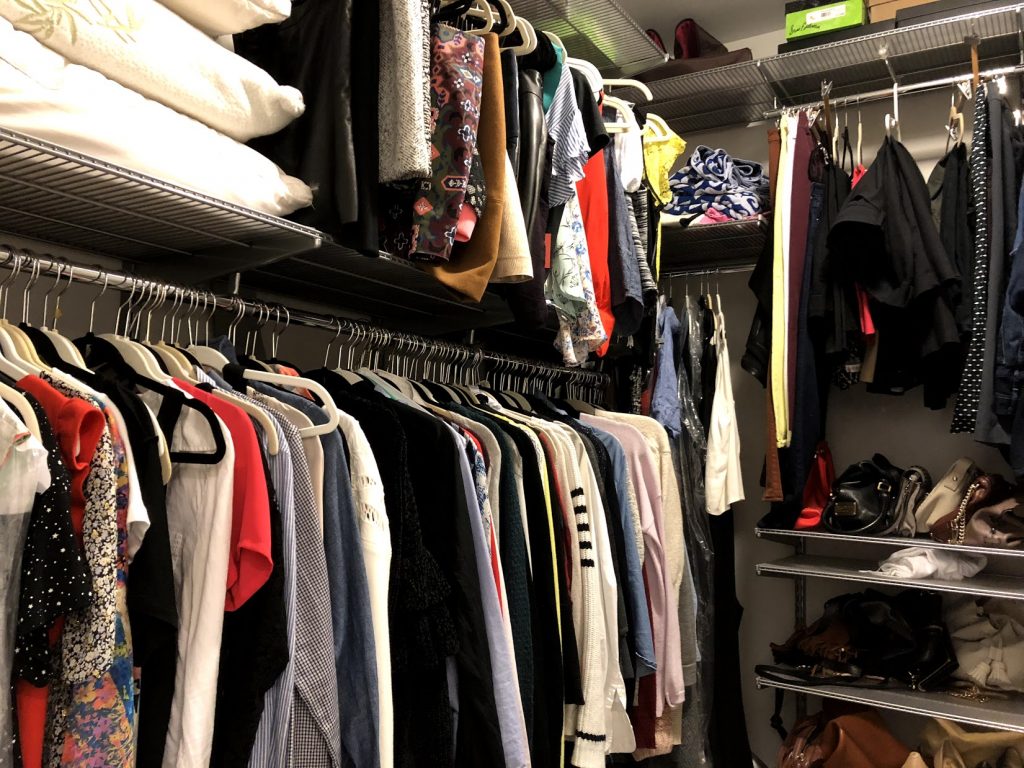 The Organizational Ripple Effect
Caleb Gurujal, another Anthem House resident who also received a complimentary elfa closet for leasing early, can't seem to remember what his closet looked like before the system. "There was a shelf and a rod and I could fit everything, but it was all very tight. The size of the closet didn't change, but I have so much room in there now just based on the way I'm using the space." With rods and shelves wrapping around the closet Caleb can hang his dress shirts on one side and casual shirts on the other. He's worked out a system using the four smaller shelves for his shoes and a pull-out rod to hang his belts.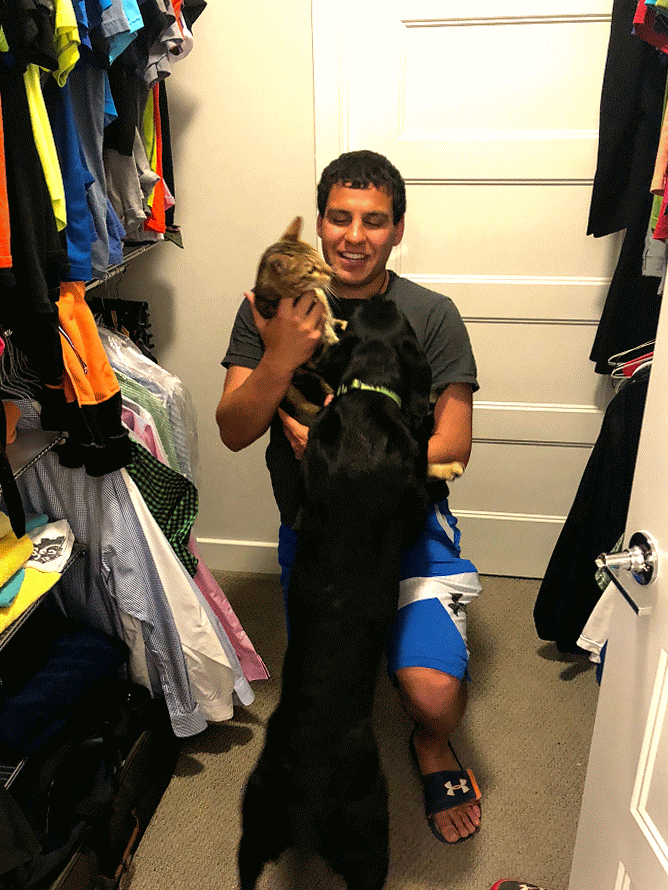 Now that everything fits in the closet, the rest of Gurujal's apartment has tidied itself up. "It had a ripple effect since I can fit my duffle bags and suitcase and other belongings in there instead of having them in the corner of the room."
And Gurujalisn't the only one who loves his new closet system. His cat Taylor sneaks in every time the door opens so she can hide beneath the clothes hung on the lower hanging rods. Gurujal grew up in a small town in Illinois so he admitted, "I didn't even know these things existed until I lived here, now I'm switching apartments at Anthem and I want to take this with me when I move." He can't imagine going back and giving up his new organized life.
Your Experience Is Everything
Gurujal also used to live at another Bozzuto Managed community in Baltimore called The Zenith. He talked about the similarities that he noticed in the overall helpfulness of the staff. "I love my leasing people, the evening people, all the concierges are great, even the night security guards, I get along with them all really well." Whether it's feeding his cat when he's away, letting in furniture delivery guys or always making time to say hello and chat, Bozzuto has made him feel welcomed and at home.
Macklin agreed and added, "It feels really easy living here. I lived in nice buildings in other cities, but you can definitely tell when a place is made to make life easier for you—and that's what it's like being here. Everyone is so nice." With the pool, fourth-floor courtyard, common room and on-site coffee-to-bar restaurant Amber, Macklin and her roommate try and have friends over as much as possible. "It's funny some of our friends have told my roommate and me, 'We get you guys live in a cool place, but you have to come to us eventually.' And now that Amber opened, we were like 'I guess now we're really never leaving here.'" Anthem House was designed to simplify residents' lives and make the ordinary parts of everyday life extraordinary—which includes customizing your closet. Working with exceptional partners like The Container Store, we can transform your experience.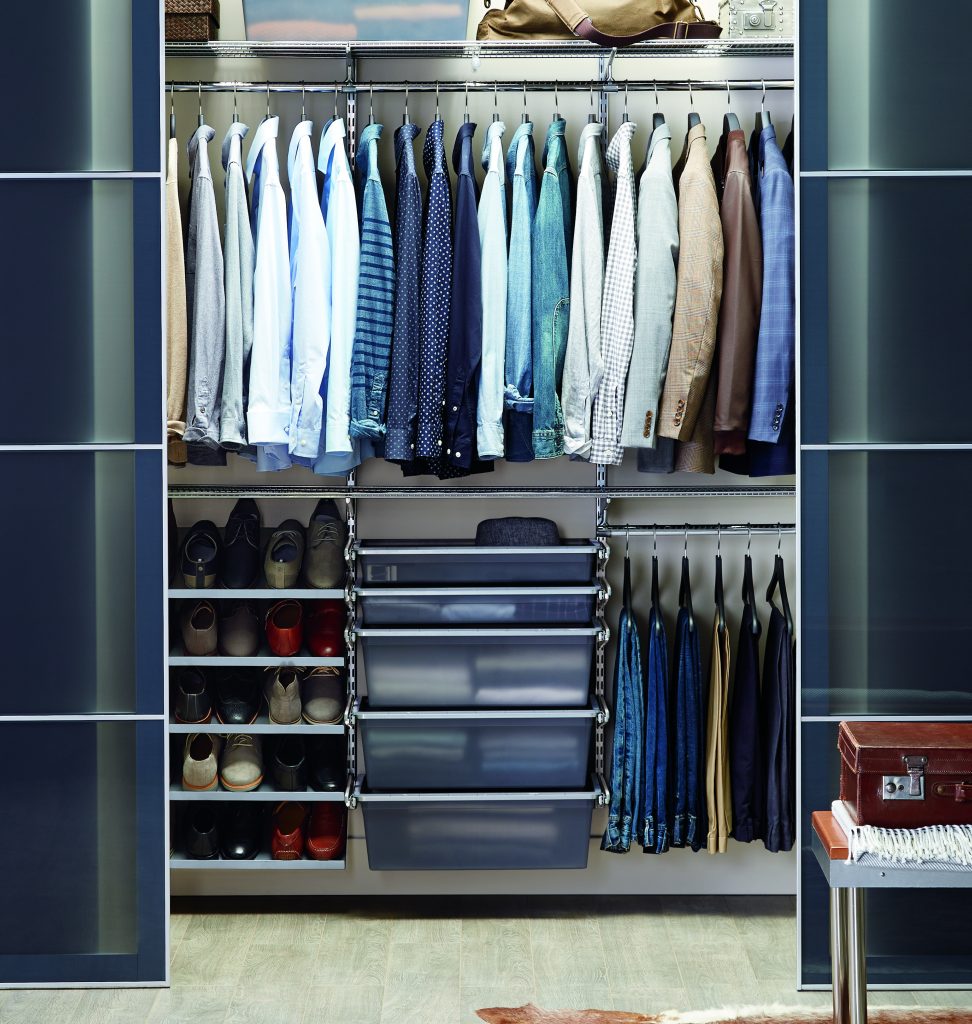 Are you looking for a community where your experience (and your closet) matters? Explore Bozzuto.com today.

Find Your Next Great Closet
Related posts