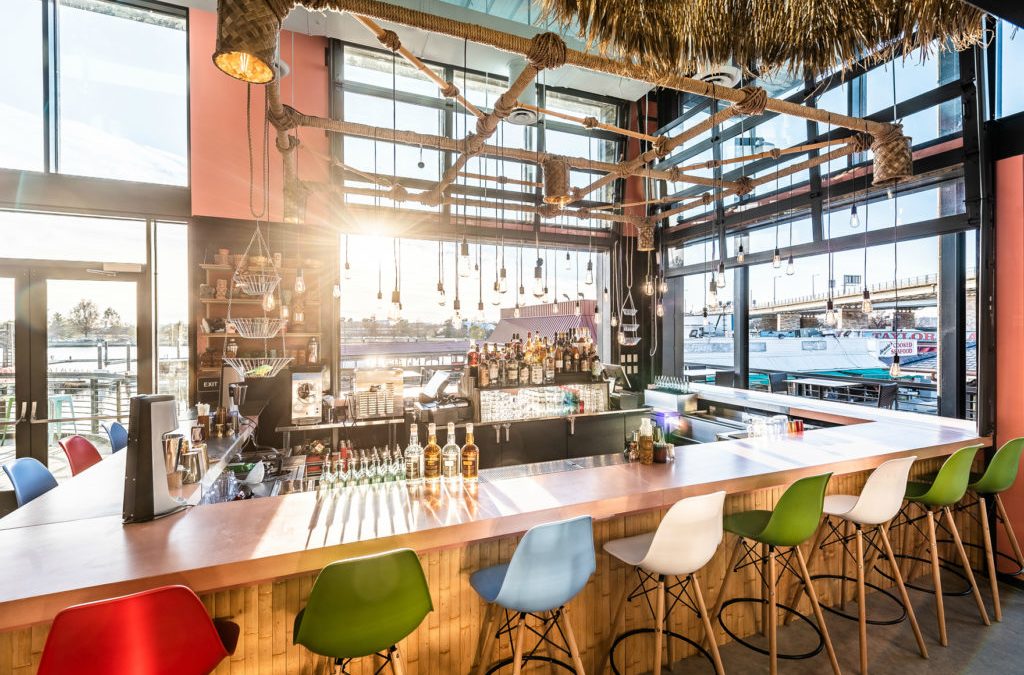 Top D.C. Rooftops & Patios
Nicole W., Paul M. , 4 years ago
3 min

read
3788
It's the end of cramped indoor cabin fever and the spark of newfound energy among friends and foes alike. Opportunities for fun are plentiful with most occurring outdoors. A wonderful way to celebrate this energy shift is under the sunny blanket of D.C.'s summer heat on a patio, rooftop, or balcony of one of the area's finest establishments. We have a few of the most unique and enjoyable places to grab a beer, cocktail, or glass of wine, all while enjoying the magic of outdoor summer weather.
Tiki TNT (District Wharf)
Tiki TNT is a mood and it lives up to its theme. As soon as you walk through the doors, you feel as if you are on vacation. Color abounds and the space is filled with natural light from the roof deck to the indoor/ outdoor bars. Its location is perfect for an ideal summer day in the district, as you can see and possibly hear the lapping of the water against the wharf. Plus the drinks are festive too with Tiki heads glasses and coconuts.
Happy hours are from 3pm-6:30pm, Monday through Friday, With boozy brunches on weekends from 11am-3pm.
Red Bear Brewing Co.(NoMa)
Red Bear Brewing Co. is a brewery plus patio designed for all types of connoisseurs. But even beyond the outdoor space, there are a bunch of different ways to have a blast at Red Bear. With over 100 different board games available to play: whether you're interested in a timeless and familiar classic like Monopoly, an exciting drinking game like Drinking Quest, they have you covered.
With 15 beers on tap, including a local American Porter (DC Dirt), a Belgian Witbier (Marmalade Skies), a Saison (Something About Rosemary), you're bound to find a match. If you're not into beer; they also have a variety of wines, meads, ciders, and cocktails to try.
Wild Days (Downtown)
Much like its name implies, Wild Days is a place to let loose and enjoy the partially enclosed botanical rooftop. Music lovers, this rooftop bar is also a venue, and hosts various acts multiple nights of every week. You can check out their Instagram for an up to date calendar for and pick a night based on your dance preferences. If you're looking for a lower-tempo experience, you can pick a DJ-less night and simply enjoy the evening among the carefully curated plants and fresh, outdoor air.
Along with their happy hour deals and bottle service, the true draw is the in-house taco bar, and the ultimate summer snack: s'mores.
The Brig (Capitol Hill)
Tucked away just one block past the 695 overpass on 8th street sits Capitol Hill's not-so-secret beer garden, The Brig. The open patio allows for large groups of people to gather without that crowded bar feeling. Known for their extensive collection of German and craft beers, make sure you visit often because the list will change. The Brig also operates a full bar with wine, liquor and nonalcoholic drinks. Stop by for happy hour Monday-Friday from 3-7pm. Have to walk your pup after work? Their welcome too. Stop by The Brig on your next long walk and take a respite with a beer, bratwurst and view of the game.
Find Your New Sanctuary
Related posts