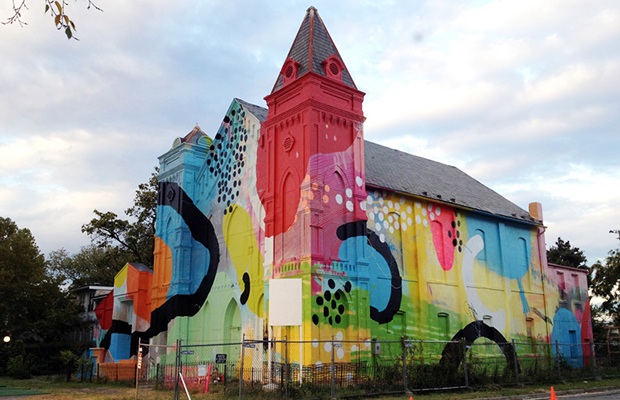 9 Instagrammable Spots in D.C.
Eliza S., Kayla J. , 6 years ago
3 min

read
13833
We've all seen the classic photos standing next to D.C's most famous monuments. And while beautiful, there are many lesser-known spots just as stunning—without the crowds of the Lincoln Memorial or the White House. Here are a few hidden gems, from murals to museums, where you can snap the perfect picture for Instagram.
The "Great Wave" Mural
3510 O Street NW
Inspired by Hokusai's famous The Great Wave of Kanagawa, John McConnell's mural can be found on the side of a house in Georgetown. It's a great place to snap a pic or pretend you're hanging ten in Hawaii.
Ben's Chili Bowl Mural
1213 U St NW
Ben's Chili Bowl's old deteriorating mural was covered for Aniekan Udofia to create a new and improved one based on the community's votes. "The Torch" includes faces like Prince, Donnie Simpson, Barack Obama, Chuck Brown and Muhammad Ali, to name a few. Celebrate D.C. history and black culture with this colorful and educational piece of art.
The United States Botanic Garden
100 Maryland Avenue SW
The conservatory's elegant glass structure and thousands of varieties of plants are just as beautiful on the outside as it is on the inside. The garden is free, so take your time admiring the florae—and miniature models of D.C.'s most iconic monuments.

Palmer Alley at CityCenter
825 10th St NW
Step outside the Apartments at CityCenter and take in the seasonal decor, from cherry blossoms to beach balls, hanging above Palmer Alley. Snap a picture under the string lights, then head to Momofuku Milk Bar and try their delicious (and equally photographable) cereal milk soft serve.
The Heart Wall at Union Market
1309 5th St NE
Created by Mr. Brainwash, an LA-based graffiti artist, for International Women's Day in 2015. It's a great place for a mini-photoshoot—plus, there are plenty of yummy treats waiting for you inside. The three murals on this list are just the tip of the iceberg—check out more amazing D.C. street art here: http://muralsdcproject.com/.
The Sculpture Garden at the National Gallery of Art
1000 Constitution Ave NW
DC is a great place to see free, beautiful art. Walk along the winding path and pose next to your new favorites. You can catch jazz performances Friday evenings in the summer, and in the winter, the fountain turns into an ice rink.
Swann Street
Between 15th and 16th St NW
On Swann Street, you'll see some of D.C.'s picture-perfect row houses. This block features brightly colored houses and lush landscaping, and in the fall, this street is perfect for a foliage-filled Instagram.
The United States National Arboretum
3501 New York Ave NE
The National Arboretum sits on 412 acres of land right in the middle of the city, and it's free to visitors. Because it's D.C., there's a bit of history here—some of the bonsai trees are hundreds of years old. Snap a picture of the columns from the Capitol building while you're there.
Blind Whino
700 Delaware Ave SW
This old church built in 1886 has been reborn as the city's most hidden gem in the arts and cultural community. Take a trip here to find theater, music, gallery shows, and other events. And make sure you snap a pic of the colorful facade before going in.
Live steps away from these picture-perfect backdrops in one of our District of Columbia communities.
Related posts