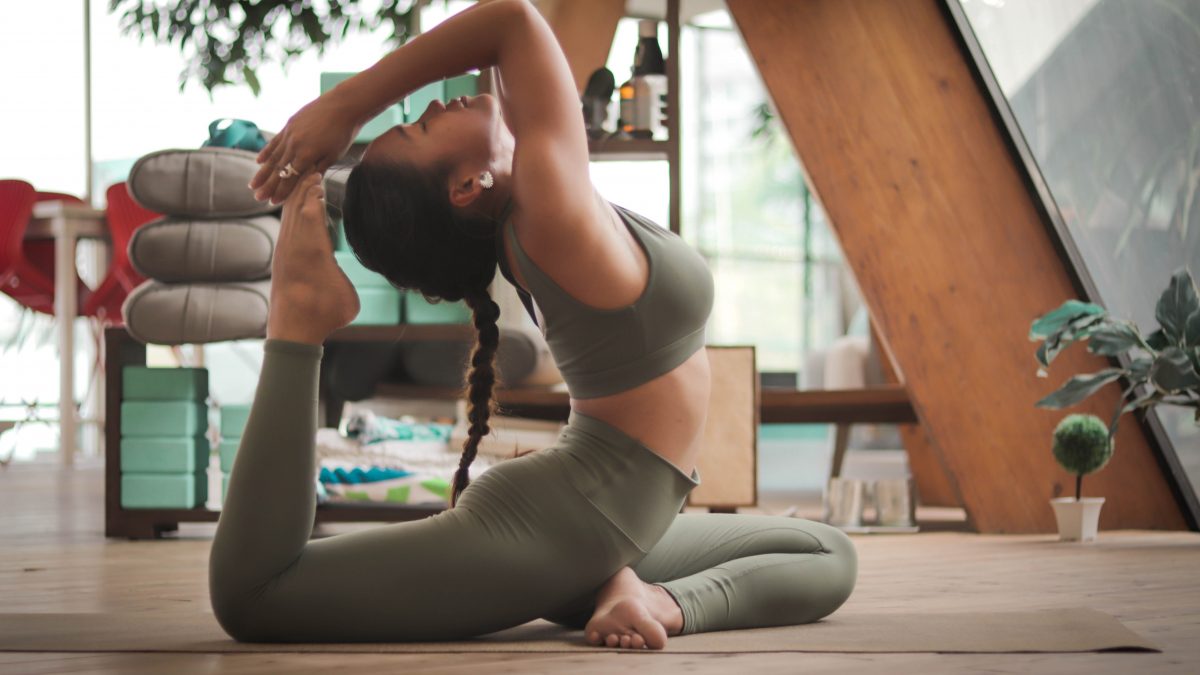 Make A Yoga Studio in Your Apartment
Jo M. , 4 years ago
5 min

read
12106
I wanted to do yoga at home. Like, apartment yoga. But I didn't have a dedicated yoga space. I didn't even have a yoga mat. All I knew was over 20 million Americans were reaping, what seemed like, the endless benefits of yoga without me. And I don't know about you, but this social distancing and sheltering in place, courtesy of the coronavirus pandemic, has left me feeling a little off balance and frazzled. It just seemed like the ideal time to begin a yoga routine for health and mind benefits – to help me to find the chill within me that's in such short supply.
If you were a regular at yoga classes outside your home before the pandemic, yoga at home is a must for sustaining all the good you're already feeling and seeing. If you're a beginner, like me, an at-home practice is in your comfort zone, and you'll never have to rely on a specific teacher or studio to keep your practice going. I'm stoked, in a peaceful and balanced way, that I started my daily 10-minute yoga workout. I want to share just how easy it is to set yourself up to do yoga in a small space, find the right yoga mat, and find the class that's right for you.
Tips to create a yoga studio in an apartment or small space
When it comes to yoga space, bigger isn't better. We don't all have the square footage in our home for a dedicated yoga room, so create a yoga corner. The important thing is to choose one spot as your designated yoga area. This way your mind and body become accustomed to it, so it's easier for you to relax and focus – every time. Think Pavlov's dogs.
You'll also need a place to keep the few yoga essentials you'll need for your practice. If you don't have a closet nearby, consider a decorative basket, or a bench or ottoman that has storage inside. Like I said, there is really very little required. Here's what you'll need and what I learned:
Essential Equipment
Yoga mats are the one truly essential piece of yoga equipment. Look for a mat with enough padding. If you have a rug on your floor, you can get away with a thinner mat. If you have floors that are wood, tile or cement, go for the big cushy mat to save your knees. I chose a rubber mat as opposed to PVC, which has a reputation as carcinogenic and is hard to recycle. I also prefer one with a texture or that is non-slip. And be prepared, yoga mats vary widely in price, from $10 to over $100. I suggest you buy as much mat as you can afford because the better ones just last longer.
Nice to have
Full-length mirrors are helpful because they're visual feedback, especially for those of you, like me, who learn best with visual information. And we all know mirrors don't' lie (Darn mirrors!). They give us a reliable, and unbiased reference – am I tilting and tucking enough? Does my plank look more like a hammock?
Essential oils are often used during yoga class to enhance the uplifting experience of the asanas (pose or position). Sometimes the instructor will hold their oil-infused hands briefly over a student's face as they drift into Shavasana (lying on the floor knees bent or straight – my all-time favorite). You can do this for yourself by rubbing the oil on your hands, or one of those bean-filled eye pillows. Ahhh. These aromatic compounds are said to have the ability to enhance mental and emotional wellness, relieve sore muscles, and support physical and spiritual well-being.
Yoga lighting and candles set the mood and atmosphere of your space. Subtle, soft light can take your tranquility to the next level. So, turn off the bright light and opt for a softer one, or just use the ambient light from a window. Something as simple as lighting a candle goes a long way to improve ambiance. It also gives you something lovely to focus on.
Yoga routines you can do yourself
Who knew that yoga classes where "virtually" everywhere? (Sorry, I couldn't resist.) You don't have to be a slave to class times, worry about how you look, or fork over piles of money. Find yoga on your tv by simply pressing the little button with the microphone on your remote, and saying "yoga classes." What pops up is a vast menu of yoga classes. It's just as easy to access online yoga classes. There's plenty of yoga websites and yoga podcasts, or you can simply search YouTube. And of course, if you're not near your tv or your laptop, there's yoga apps for that.
What you'll find are an impressive number of 10-minute workouts, 30-minute workouts, morning yoga routines, yoga routines for flexibility, yoga you can do in bed, and yoga you can do in a chair (Is that really a thing?). I get tired just thinking about all the types of yoga classes available. It just proves there's a yoga routine out there just right for you.
As part of Bozzuto's #BozzutoStaysHome initiative, where life comes to you during this time of isolation, they filmed a series of virtual events – everything from fun cooking demos too, yes, a Vinyasa Yoga Class with instructor Ritu from Functional In-Home Training Inc.
I did Ritu's easy-to-follow one-hour class for all levels, and loved the flow of it. Beginners can definitely do all the poses, yet there's room to challenge yourself if you're feeling like a yoga warrior.
For me, yoga is part of how I choose to handle our current crisis. Even if you have another exercise program, yoga fills the gaps. It can keep you afloat when life gets too crazy for words. As some smart yogi must have said "The calm you're seeking already exists inside of you." So, grab your yoga mat, light a candle and put on that video…and play for a while in the good vibe of yoga.
Related posts