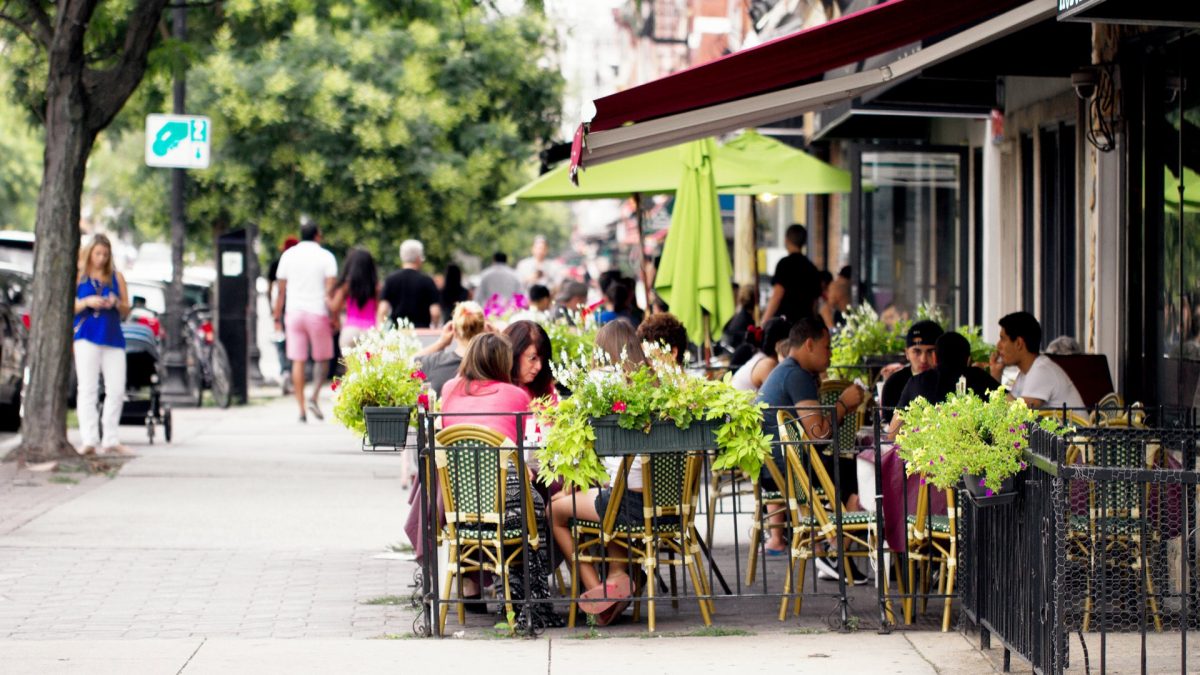 Eat Like a Hoboken Local
Samantha S. , 6 years ago
3 min

read
18808
Measuring only about one square mile, Hoboken, NJ is full of renowned restaurants and bars. Whether you're on the hunt for your next date night or lunch spot, there are endless options and plenty of local favorites.
It's All About the "Mutz"
Fiore's Delicatessen: 414 Adams Street
Whether you pronounce it "motz-a-rella" or cut right to the chase with "mutz," you need to order some at Fiore's. This cheese will change your life. Hand-made daily, it's featured on a different specialty sandwich every day of the week. Thursday and Saturday's homemade roast beef with brown gravy and fresh mozzarella has long been a cult classic for locals.
Pizza the Size of Babies
Benny Tudinos: 622 Washington Street
While many Hoboken pizza places may claim they have the biggest slice, Benny Tudinos' actually holds this honor, with slices as big as a newborn baby. How do I know this? The register is plastered with pictures of newborns lying next to humongous triangles of cheese. But with Benny's, it's not just about the size, the crust is crispy, the sauce is the perfect balance of sweet and savory and the cheese is a melted masterpiece. The menu expands beyond pizza into an array of Italian dishes, but who could try anything else when there are massive slices of cheese and sauce staring you in the face? Keep in mind, you have to order by the slice to enjoy this behemoth, pies come in a normal size. Did I mention they deliver?
Not Everything Is Italian
La Isla: 104 Washington Street or 25 12th Street
Whether you're uptown or downtown the taste of Little Havana is within reach. The original La Isla opened downtown in 1970 and was taken over by the current chef and owner Omar Giner in 1996. With just 39-seats and no reservations, locals have been waiting to get a spot at this crowded restaurant for years. That is until 2015, when the restaurant expanded, opening its 100-seat uptown waterfront location.
Both spots serve generous helpings of fresh, affordable and traditional Cuban food in a friendly atmosphere. And while the food menus are similar (with slight variations and different specials), the downtown location is a BYOB, while uptown you'll find a full bar putting twists on classic cocktails like the Pineapple Habanero Mojito or the Pepino-Tini (made with Tree City Vodka, fresh lime, St. Germain Elderflower, sliced cucumbers). Oh, and that "first come, first serve" rule, it doesn't apply uptown, so feel free to make a reservation at any time.
Put the Beer in Biergarten
Pilsener Haus Biergarten: 1422 Grand Street
While Washington Street is a staple in this small city, there are plenty of places to eat and drink beyond Washington. Pilsener Haus Biergarten on Grand Street is an authentic Austro-Hungarian Biergarten located in a renovated warehouse uptown. With live music, quiet side rooms, an outdoor area with heating lamps, large Bavarian soft pretzels, schnitzels, sausages, strudels, 20 beers on tap and over 50 bottles to choose from, there's something here for everyone. It doesn't need to be Oktoberfest for you to stop by, grab a seat at one of the long tables and you'll find a lively crowd for dinner, drinks or even Sunday brunch.

Hoboken may be small, but it radiates a big city's vibe, full of restaurants and bars that are old and new, offering an array of cuisines and atmospheres.
Find Your Home in Hoboken
Related posts