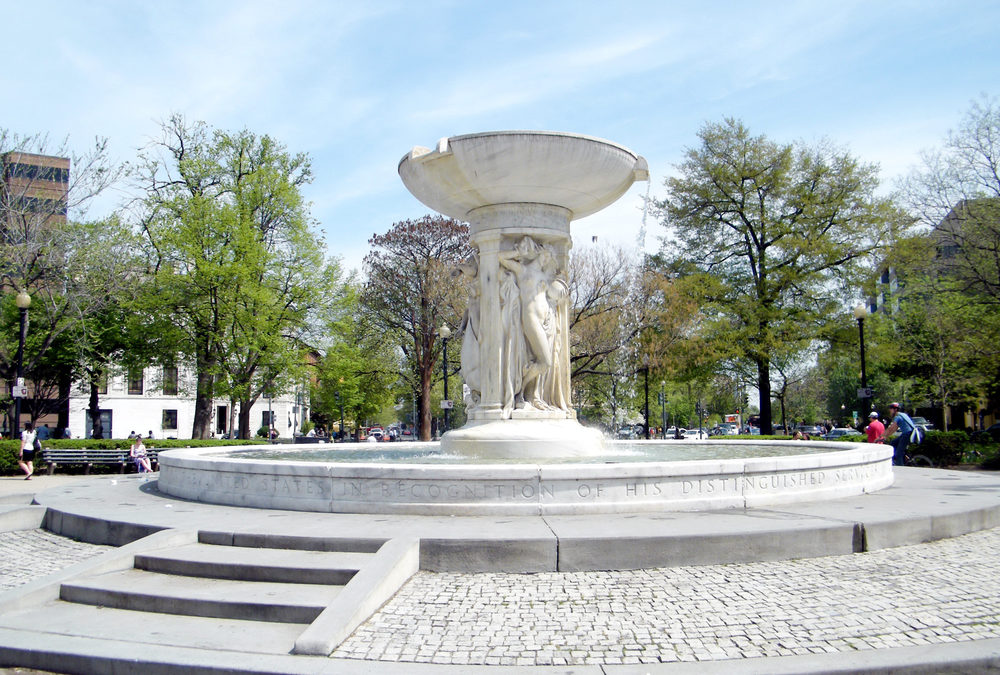 Neighborhood Tour: Dupont Circle
Amy A. , 7 years ago
3 min

read
23849
Within walking distance from the White House, Embassy Row, and the Metro's red line, Dupont Circle is full of quaint charms for locals and visitors alike. Whether you live nearby or you're planning a visit to the nation's capital, make sure you save some time to explore the small, simple pleasures that abound in this neighborhood.
Coming Full-Circle
In Dupont, it all starts with the circle. A double-tiered white marble fountain sits in the middle of the centuries-old traffic circle, its bottom level welcoming visitors to park themselves there with a book on lazy Saturday afternoons (maybe even a used book you picked up from Second Story Books, just around the corner).
The small park surrounding the fountain hosts many formal and pop-up events in every season, from impromptu yoga or salsa lessons in the summer to a huge snowball fight that takes place every winter. In warm months, it's not uncommon to see people stringing up a tightrope or hammock between shady trees, or friends playing chess on the tables that line the outer edge of the circle.
Raising a Toast to the Past
A tour of the Dupont Historic District can reveal more than just your inner history nerd. The neighborhood is home to several historic mansions, such as the Heurich House Museum, also known as the Brewmaster's Castle. Here, you can tour the Victorian home of DC's most successful brewer Christian Heurich while enjoying local brews. At the quirky Mansion on O Street, you can add searching for secret doors and passageways to your champagne brunch goals.
And did you know that 75,000 square feet of underground platforms and tunnels lie beneath Dupont Circle — and they're not connected to the Metro? Opened in 1949 and shut down in 1962, the city's short-lived dream of a streetcar system lay vacant until recently. Over the past decade, Dupont Underground emerged from the ashes of the streetcar system and is now a community center teeming with artistic and cultural events.
Finding Your Vibe
Dupont is full of hole-in-the-wall treasures like Mr. Yogato, where you are rewarded with discounts off your fro-yo for guessing trivia answers, or Filter Coffeehouse and Espresso Bar, where you can work alongside other quiet espresso sippers, or Little Serow, a walk-in only Thai restaurant that calls itself a "teeny little joint." Organic foodies find refuge in Restaurant Nora, America's first certified organic restaurant, the impressive Dupont Circle Farmers Market and Glen's Garden Market, a newer arrival to the neighborhood.
Along 17th Street NW, Dupont Circle holds the DC High Heel Drag Queen Race every year on the Tuesday before Halloween and also hosts the city's annual Pride Parade. On weeknights and all day long on the weekends, bars like the Front Page, Madhatter, and Buffalo Billiards are bursting at the seams with people enjoying happy hour specials and holiday-themed bar crawls.
Dupont offers a vibrant scene to young professionals, history lovers, and urban wanderers. Find your new home in the heart of Northwest DC here.
Related posts